Explore the Odaiba water front area with various commercial facilities. You can enjoy both land and sea views with one amphibious bus trip.
The tour guide and realistic 3D audio source will make a tour of Tokyo metropolis more memorable.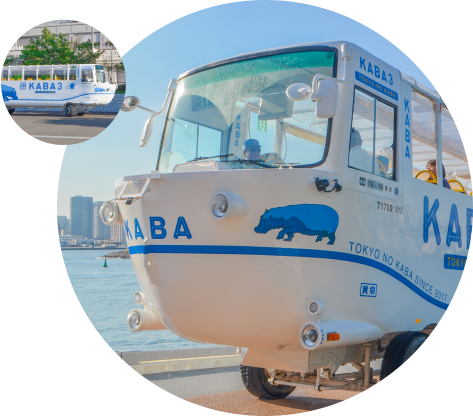 Passenger capacity:

38

Total length:

11.9m

Total width:

2.49m

Weight:

13.86t

Sea speed:

6.0kn

Built in Japan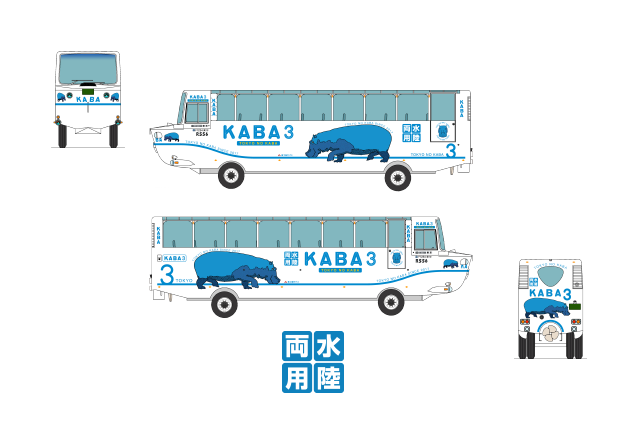 Access ODAIBA
1-7-1 Daiba, Minato, Tokyo

Yurikamome Daiba sta. 5 min. walk
Rinkai Line Tokyoteleport sta. 10 min. walk
<Reception place>
Weekday:Bus stop (1F sea side car approach)
Holiday:AQUA CiTY ODAIBA 1F Near the escalator
<Bus Stop>
AQUA CiTY ODAIBA 1F Bus stop of seaward
Regular course (About 45 minutes)
* Please complete the reception at least 15 minutes before the departure time. (Reception is up to 5 minutes in advance)
* Seats are unreserved.
* Due to the issuance of the state of emergency, it will operate only on Saturdays and holidays in July. (Scheduled to operate on weekdays in August)
Fare
| | |
| --- | --- |
| Adults(Junior high students and older) | 3,600yen |
| Children(from 4 to elementary school age) | 1,800yen |
| Infants(from 0 to 3 yr. old/no seats available) | 500yen |
Timetable
Tour duration:
About 45 minutes per lap

WEEKEND and HOLIDAYS
                            
10:00
                            
11:00
                            
(12:00)
                            
13:15
                            
14:15
                            
15:15
                            
16:15
                            
Holidays

WEEKDAY

Please be aware that, depending on the weather,
the tour may be suspended.

Internet

* Reservations can be made from one month before your boarding date up 1 hour before departure.
* Please pay by credit card or in cash on the boarding day.
Telephone

03-3455-2211(9:00~17:00)

* Reservations can be made from one month before your boarding date up 1 hour before departure.
* Reserve by telephone and pay for it in cash on the boarding date.
You can buy a same-day ticket at the counter if there is a vacant seat.
(Cash only)
Reservation by travel agency or for group tour

03-3376-1121(9:00~18:00)

Fujikyuko Co., Ltd. Sales Dept.
Notices
Operation may be suspended depending on the weather (wind, thunder, fog, etc.) or water level. Please check our website.
Operation may be suspended or the course/time may be changed without prior notice due to road conditions, bus maintenance, constructions and event, etc.
You can reserve from the date one month before the boarding date.
Same-day tickets are sold when there are vacancies. Please come directly to the terminal to check availability.
Reception hours at Aqua City are 9:00 to 12:00 and 13:00 to 16:15
Your seat cannot be reserved. Please understand that other passengers may be seated next to you.
Your personal information provided at the time of reservation will be used only for related procedures.
Please kindly present yourself no later than 15 minutes before departure. Please note that your reservation is canceled if payment is not made by 10 minutes before departure.
The bus will leave if you are not present at the time of departure even when you have paid. This is regarded as a canceled reservation and the fare will not be refunded.
Your clothing may get wet due to rain or splashed water, or your hat and baggage may be blown out of the bus, so please be careful.
Refrain from using a selfie stick in the bus.
Parents are requested to take children under 3 on their lap for safety. Please note that a lap child is also charged an infant fare.
Elementary school students and under always have to be accompanied by an adult (Number of accompanying adults must be more than 1/4 of the number of children.) (Contact us for details of group tour.)
Elementary school students and under are required to wear lifejackets.
Be sure to wear the seatbelts while riding.
Eating, drinking or smoking in the bus, or putting your hands or feet outside are strictly prohibited for safety reasons.
Only capped drink bottles/cans can be brought into the bus.
Be careful on boarding as the steps and path can be slippery.
Please be aware that passengers have to walk eight flights of stairs and no lift for wheelchairs is available.
There is no lavatory in the bus.
For cars, use a parking lot nearby.
We cannot keep your baggage. Use a coin operated locker nearby.
You cannot carry your pet even if it is in a cage, except a guide dog, service dog or hearing assistance dog, in which case please let us know beforehand.
During the tour, please follow the instructions given by our staff.